Library Innovation Lab: Exploring New Ways of Engaging Immigrant Communities through Public Humanities Programming
Now entering its fifth year, our Library Innovation Lab (LIL) program supports the design and delivery of responsive and relevant public humanities programming in California's public libraries. The program provides a nine-month practice-based professional development experience (and cash grants of up to $5,000) to ten participating library programmers each year. To date, 52 California libraries from across the state have participated in the program which aims to provide welcoming experiences for immigrants and foster more inclusive communities. To learn about past grantees, check out this list of projects.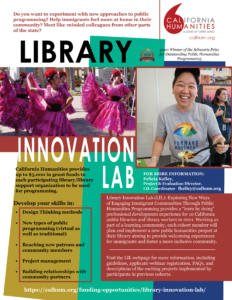 The 2021 cohort of library "innovators" will research, design, implement and assess a small-scale, short-term public humanities project at their library and/or virtually between April 1 and December 31, 2021. Working in a collaborative learning environment that combines virtual group meetings with individual advising, participants will acquire new skills and knowledge in programming and project management, build confidence and develop capacity in working with immigrants and other target audiences and exercise creativity and imagination through experimenting with new programming approaches.
Applications for the 2022 cohort open January 2022. For more information, write to Felicia Kelley at fkelley@calhum.org 
For Library Innovation Lab Grantees