The Art of Storytelling exhibit series in our Oakland office celebrates California's rich cultural and artistic histories and dynamic changing demographics. Multi-generational storytelling and testimonials articulated in this exhibit through a variety of visual media. In 2020, we pivoted to virtual events until we can safely bring staff and the public together.
COMPLETED  EXHIBITS AND EVENTS
The Art of Storytelling: Fire Tales
A virtual conversation with grantees who are working with communities affected by the California fires. Facilitated by Rachel Hatch, Senior Program Officer, Community Vitality – The McConnell Foundation and a California Humanities Board Member, this event's panelists will share stories straight from the front lines of the wildfires.
The Art of Storytelling: Black Joy
A virtual evening of performance and conversation moderated by writer and professor of poetry/social action and composition studies Daniel Summerhill,  in conversation with two young writers from the Black Joy anthology, Samuel Getachew (former Oakland Youth Poet Laureate) and Elijah Hynson alongside their poet mentors. It included performances by award-winning writers Tongo Eisen-Martin, Darius Simpson, and Vernon Keeve III and was produced in partnership with Chapter 510 and Nomadic Press.
We Are More: Stories by Queer Comic Artists
July 8–October 31, 2019
Highlighting the connections between queer identity and other lived experiences, California Humanities presents the narrative art of four contemporary Oakland-based queer-identified comic artists: Ajuan Mance, Breena Nuñez, Lawrence Lindell, and Trinidad Escobar.
The work of each artist reflects an aspect of queer identity that is often unseen or hidden in mainstream narratives—whether it's illustrations of queer connections between everyday people of color by Mance, magical realist depictions of the inner world of an artist by Lindell, queering indigenous mythology with drawings by Escobar, or a coming-of-age story about family and ethnic identity by Nuñez. Each piece provides a lens into complex stories which often defy categorization.
The exhibit also features behind-the-scenes clips from forthcoming California Humanities-funded documentary NO STRAIGHT LINES: THE STORY OF QUEER COMICS, which tells the story of how LGBTQ comics evolved from a marginalized underground scene to that of mainstream acknowledgement that we know today.
NO STRAIGHT LINES highlights five queer artists—Alison Bechdel, Jennifer Camper, Rupert Kinnard, Howard Cruse, and Mary Wings—and their work which, once obscure, now is recognized worldwide. The film, supported by a California Documentary Project grant from California Humanities, is helmed by filmmaker Vivian Kleiman, with assistance from Justin Hall, the author of anthology No Straight Lines: Four Decades of Queer Comics (Fantagraphics Books, 2012.)
"One of a series of Black history mashups. In these drawings I pair two African American historical figures who did not know each other (most often from different time periods), but whom I believe would have been friends. Then, I imagine a place where they would likely meet and what they would do there. This piece depicts Hattie McDaniel and Nell Carter, two Black women actresses who achieved great fame, but mostly for stereotyped roles as mammies and maids. Both actresses were praised for their skill, even as each woman's career options were limited by her intersecting identities as fat, Black, and female."—Ajuan Mance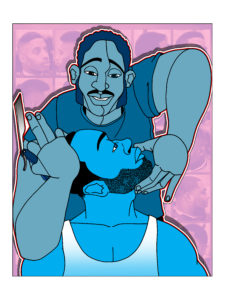 "One of a series of eight drawings that depict African American men in loving and affectionate friendship, community, or romantic partnership. This drawing depicts the intimate relationship between barber and client, especially in the case of a straight-razor shave. There is vulnerability here, caretaking, and trust."—Ajuan Mance "La Matriarca is a short excerpt from a longer graphic novel about my teenage self grappling with an ethnic identity crisis regarding her Salvadoranness. In this particular moment a tiny Breena is seen playing by herself at a beach in Half Moon Bay before she meets her Salvadoran grandmother for the very first time.
"The purpose of this moment is to show people of the Central American diaspora living in sheer joy, without the need to include constant narratives of warfare and trauma.
"Drawing my younger self in this comic is meant to remind myself and others that we are more nuanced as a people. We are not just headlines in news articles; we are human beings who are worthy of experiencing happiness."—Breena Nuñez
"The Garden is an autobiographical magical realism comic about heartbreak, re-finding one's self, standing still, and starting over. The comic takes places in a "magical" garden in Compton, California and is written in a poetic experimental form."—Lawrence Lindell
"Seven Moons depicts the seventh moon from Visayan mythology and spirituality as a feminine entity. Masculine figures fight for her cool light (to fish, to guide them during their sea voyages), but here she graces a young femme with a gentle embrace. This is how I feel when I spend time with the moon: nurtured and seen."—Trinidad Escobar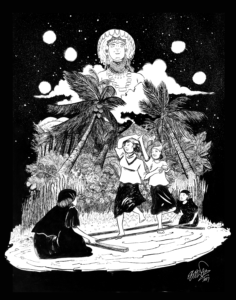 "Libulan: God of Queer Love depicts a deity or spiritual energy described in the oral storytelling traditions (kwentohan) of the Philippines. Here, the Visayan deity watches with approval as two femme humans dance Tinikling, a folk dance traditionally performed by one man and one woman who mimic a rooster and hen evading bird traps made of bamboo. It is important to me that queer Pilipinxs understand that one or more of our indigenous deities are out there blessing our unions."—Trinidad Escobar
NO STRAIGHT LINES, directed by Vivian Kleiman, tells the extraordinary story of five queer artists who tackled the big issues of their day and the quirks of daily life, ultimately reaching worldwide recognition. In a behind-the-scenes video in the exhibit We Are More: Stories by Queer Comic Artists, Justin Hall, Associate Professor of Comics at the California College of Art, Fulbright Scholar, and pioneer historian of LGBTQ comics, analyzes the cartooning techniques of Alison Bechdel and Howard Cruse whose works are covered extensively in the film. NO STRAIGHT LINES is still in production, and is the recipient of a 2016 California Documentary Project Production Grant from California Humanities.
Exhibit Opening
---
PAST EXHIBITS